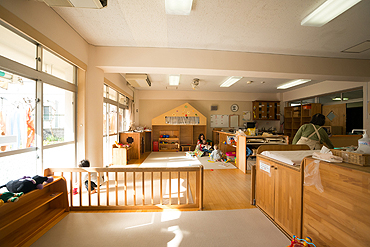 This Daycare service is available to anyone for any reason. Leave your child with us so you can take care of some business, or to just relax and recharge.
Having your own time is important and sometimes necessary to appreciate and enjoy your children.
Application Process for Aoba
Eligibility
From 2 months old up to 6th Grade (Elementary school age).
AOBA for Elementary school children
⇒Application Process for Aoba
Pre-Registration
Please visit Ai-Port beforehand to become a member.
Registration time: Monday through Saturday 10:00 – 16:00
Required items upon registration: 500 yen/child as an annual membership fee (1,000 yen/child for non Minato-ku residents), ID of a guardian to confirm address and name such as driver's license, health insurance card(hokensho),or passport etc., children medical support card(nyuujiiryousyou)/medical insurance card (iryousho)/mothers and children health handbook (boshitecho) if the child is under one year old.
Making Reservations
After becoming a member, please make a reservation for daycare. Reservations can be made up to a month in advance, but no later than the morning of the day before. Reservations can be made by telephone or in person.
*Reservations for Sundays and holidays will be closed a week before.
(For Sundays, no later than 17:00 on Saturdays of the week before.)
Reservation time: Monday through Saturday 09:00 – 17:00 (Fax or Email are not acceptable.)
Telephone: 03-5786-3250 Child Raising Centre AI-PORT
Daycare Fees
<Minato Ward Residents>
Mon-Sat
9:00~18:00
7:30~9:00
18:00~21:00
800 yen/hour
1,200 yen/hour
1,200 yen/hour
Sun & Hol
7:30~21:00
1,200 yen/hour
<Residents Outside Minato Ward>
Mon-Sat
9:00~18:00
7:30~9:00
18:00~21:00
1000 yen/hour
1,400 yen/hour
1,400 yen/hour
*Daycare services are available in 30 minute increments with a minimum of 1 hour.
*The fee must be paid in advance at the beginning of the visit.
When Using the Daycare Service
Things to Bring
change of clothes, diapers, wipes, plastic bags (2 sheets), drinks, milk, milk bottle, lunch box or meal, snack, bib for meal time, hand towels, favorite toy or blanket (for comforting).
● Please bring necessary items that your child requires and/or prefers.
● Please put your child's name clearly on all belongings.
Meals
Please bring your child's meals. Even for short time daycare use, please bring drinks (tea etc.) and snacks.
Paperwork for the Use of Service
You are required to fill in the daycare form before we receive your child. The information you provide us is necessary for staff members.
Please give us details of your child's condition on that day. We will try to respect your child's daily routine as much as possible during the daycare.
● Emergency numbers must be provided.
● Please let us know if you want your child to have a meal or take a nap at a certain time.
  *Please note anything we should be aware of
Cancellation Policy
Cancellation must be made by 17:00 three full office/working days of the reservation date. Cancellation after this deadline will require the cancellation fee.
● Cancellation fee will remain at 50% of the total cost of your reservation hour(s). 100% on the reservation date.
● We will take reservations from a month in advance to noon of the previous day. Reservations are likely to fill up very quickly and we advise you to make them as early as possible.